Hot Rods (English)
The history of a passion deeply ingrained in the American society, far away from staying in the past, every day gets closer to present, and furthermore, shows an evident place in future.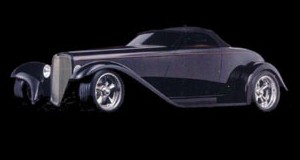 During the 30s, after the big economical depression, the foremost car makers in the USA were observing carefully how customers increasingly tended to choose high performance cars. From then on, an intense competition to produce cars acknowledged for their achievements in the racing world started to develop. The old saying was "win on Sunday, sell on Monday". They realized the importance of offering their customers with more powerful engines. Between 1932 and 1940 Ford made a number of successful models. It is quite remarkable the fact that they are more widely searched at present than at their initial stage. In the late 30s, people were getting more and more interested in these models, and so they started to gather for drag racing.
As the Second World War broke out, the factories were forced to pull their resources to the manufacturing of military artillery and war ships. Thousands of people were hired and prepared on mechanical issues. Other thousands, who were soldiers, had to go to Europe and got to know their vehicles and their technical development. Once the War ended, American citizen's lives went back to normality, with some exceptions. They were better well-off, but due to the industrial changes during the war already explained, their cars had grown old. No car had been made in that period.
Thanks to the knowledge acquired, people who had been able to save some money took a liking to drag racing and fostered its growth. Those who modified their cars not only exhibited them proudly, but they also wanted to have them compared with other enthusiasts; in order to check how good their modifications had been. They searched for simple cars, from the point of view of their mechanics, to be able to customize them. At the beginning, drag races in the streets were out of control causing accidents; and bad reputation was associated with people devoted to building Hot Rods. Later on, the National Hot Rod Association (NHRA), which established several categories, was created as an attempt to regularize the activity, thus carrying out the races within the law.
The fact is that Hot Rods go beyond drag racing. Nowadays, thousands of people get their old Fords and Chevrolets ready to show off, customized as they pleased. On some occasions, their "whim" may be worth from 40,000 to 300,000 dollars, which might include rescuing an old '32 or '34 Ford coupe, a '37 or '39 Chevy, buying a classic V8 or remaking the original, and have the car built by professional builders.
There are many special teams that build Hot Rods with Corvette or Mustang engines, this means that in technological terms they are quite sophisticated, despite looking a classical beautiful body. Two of the best designers are Boyd Coddington y Chip Foose. The latter, designed the 0032 model (shown above). The idea of designing cars with reminiscences of old classic models got strong in the 90s. Chrysler exhibited a concept car, which caused sensation in every Motor Show in the US. With its huge and almost uncovered wheels, a body that looked like the ones in the 30s and a V6 engine capable of 200+ HP, the Plymouth Prowler became a sales success. Not even Chrysler expected such a reaction from the public. It is very clear that Hot Rods are and will be the passion of a large number of fans, like a dream they had since kids. Lucky the ones that can afford the cost of building a car… and filling the gas tank…
More info about Hot Rods
© Adrián Blanco 2004 – Prohibida la reproducción total o parcial de texto y/o imágenes sin consentimiento explícito por escrito del autor.
---